A supply chain mini course program. Bringing new experience for public to learn the perfect mix between theoretical and study cases directly by the experts.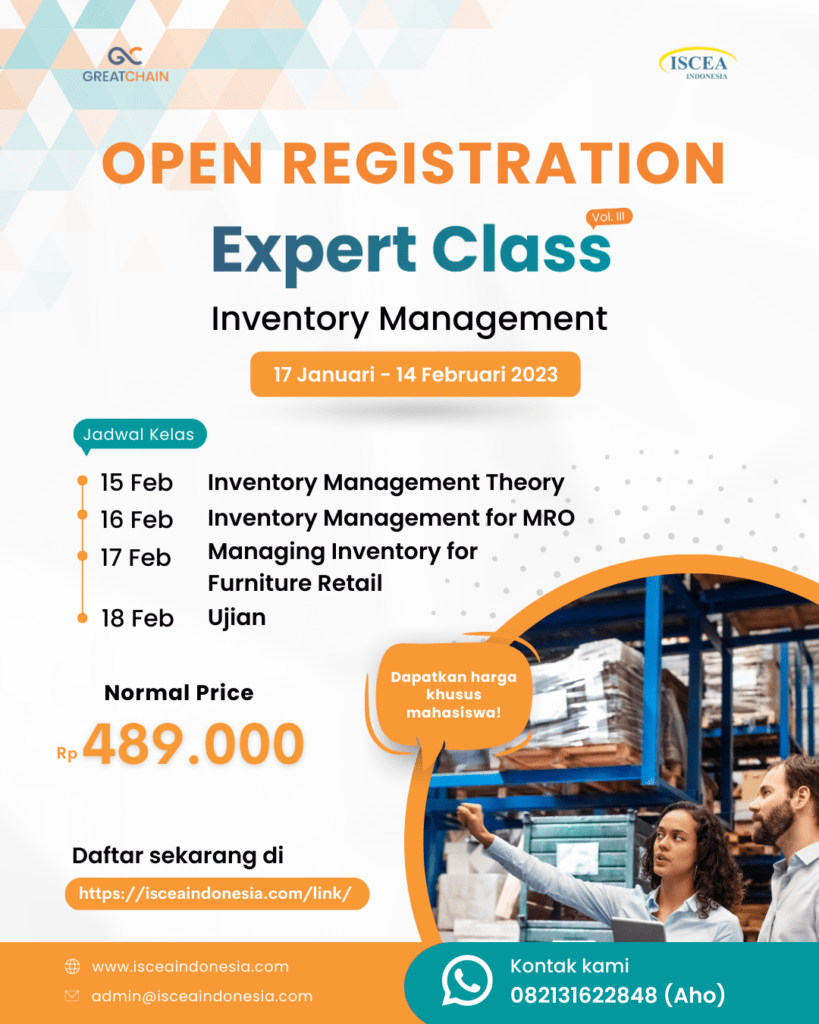 The classes is being held online via Zoom meeting and the post-test will be conducted online.
Wednesday-Friday, 15-17 February 2023 : 19.00 – 20.30 WIB (After working hours)
Saturday, 18 February 2023: 09.00 – 12.00 WIB (Post Test)
Wednesday,
15 February 2023
(18.30 – 20.00 WIB)
Inventory Management Theory:
Introduction to Inventory Management
Types of inventory
Inventory management performances
Prof Nyoman Pujawan
Professor of Supply Chain Engineering
President of ISCEA Indonesia
Thursday,
16 February 2023
(18.30 – 20.00 WIB)
Inventory Management for MRO
Challenges in part numbering/cataloging
Characteristics and types of MRO Inventory
Categorizing products based on ABC Analysis and example cases
Ary Tri Wibowo, CSCA, CSCM
PT Semen Indonesia (Persero) Tbk.
Supply Chain Development
Friday,
17 February 2023
(18.30 – 20.00 WIB)
Replenishment Policy:
Challenges in managing inventory for furniture retail
Case Study: Replenishment methods
Adelia Setiadi, CSCM
Ex Replenishment Manager
IKEA Indonesia
Saturday,
18 February 2023
(10.00 – 11.00 WIB)
Post Test
 
After attending the three-days training, all participants are required to take a post-test in order to get a certificate of participation.
The duration of the post-test is approximately 1 hour with 30 multiple choice question.
In order to get the certificate of participation, you need to finish the post-test on the last day of the event.
The certificate will be given to all participants is a certificate of participation, so the output is NOT similar to the ISCEA Indonesia certification programs. 
Upon receiving the certificate of attendance, ISCEA Graduates will be eligible to convert it into Professional Development Units (PDUs). During this event, you may be eligible to receive 5 PDUs if you finish the post test.