Supply Chain Dialog Live
ANTICIPATING 2023 AND BEYOND: GLOBAL AND NATIONAL SUPPLY CHAIN CONTEXT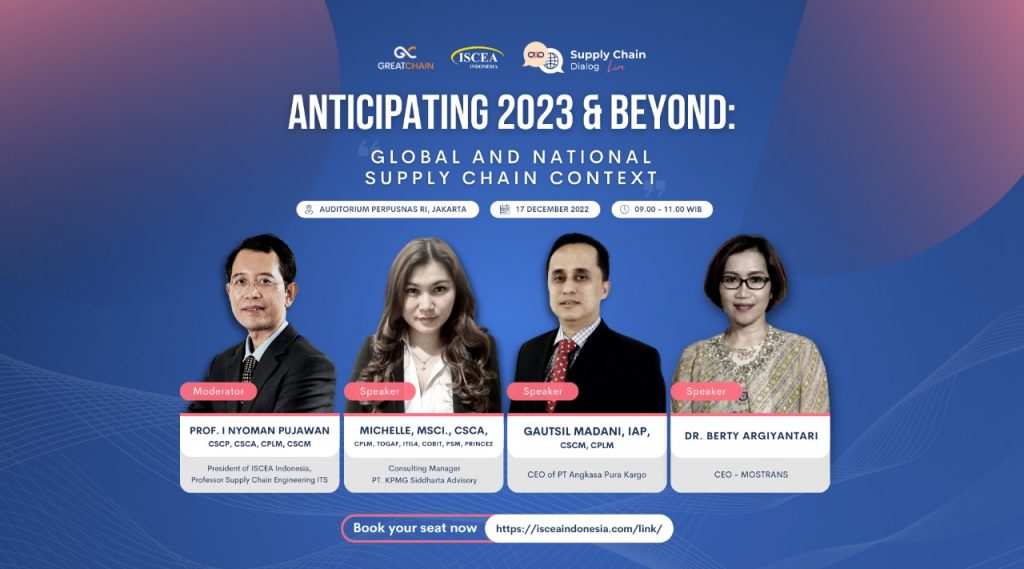 Supply Chain Dialog was a program formerly created in early 2021 known as our mini-podcast to increase our graduate soft-skill development through small discussions with experts in its field. Due to the expanding topic, in late 2021, our mini-podcast transformed into Supply Chain Dialog. The discussion is no longer pre-recorded and limited to soft-skill development but also expands to recent issues in the supply chain. To date, we have produced 5 episodes divided into 8 videos reaching more than 1,700 viewers.
Supply Chain Dialog LIVE 2022 will be held on:
Saturday, 17  December 2022
Hotel Holiday Inn Express, Matraman
Jl. Matraman Raya No.5, Palmeriam, Kec. Matraman, Kota Jakarta Timur, Daerah Khusus Ibukota Jakarta 13140
08.00 – 09.00
Registration Opened
09.00 – 09.05
Opening
09.05 – 10.00
Moderator: Prof. Nyoman Pujawan, PhD, CSCA, CPLM, CSCM, CSCP (President of ISCEA Indonesia)
Speakers:
1. Michelle, MSci., CSCA, CPLM, Togaf, ITIL4, COBIT, PSM, Prince2 (Consulting Manager – PT. KPMG Siddharta Advisory)
2. Gautsil Madani, CPLM, CSCM (Direktur – PT Angkasa Pura Kargo)To Be Confirmed
10.00 – 11.00
Questions and answers
11.00 – 11.05
Closing
11.05 – 12.00
Lunch and Networking Sessions
If there is any further inquiry please contact us on admin@isceaindonesia.com or Whatsapp +6282131622848
Terms and Conditions
This ticket is non-refundable. However, you can hand the ticket over to others.
The changes in the attendees' information shall contact the committee first because it is related to the name on the certificate.
Please make sure that you have given the right e-mail because the committee will send you the confirmation email based on the registered e-mail.
Make sure that you have given the right phone number. Especially for more than 1 ticket purchase, we will confirm the attendees' names through Whatsapp.
Please arrive 30 minutes before the event started. The re-registration is opened one hour prior to the event.
Any possession of drugs and weapons in the venue is strictly prohibited.
Food and drink are not allowed inside the Auditorium.
Recording the event using your personal video camera/phone is prohibited.
Participants are required to have been vaccinated with the COVID-19 vaccine + Booster.
Attendees must wear masks inside the venue.
Bring and use hand sanitiser whenever needed.